December 7, 2020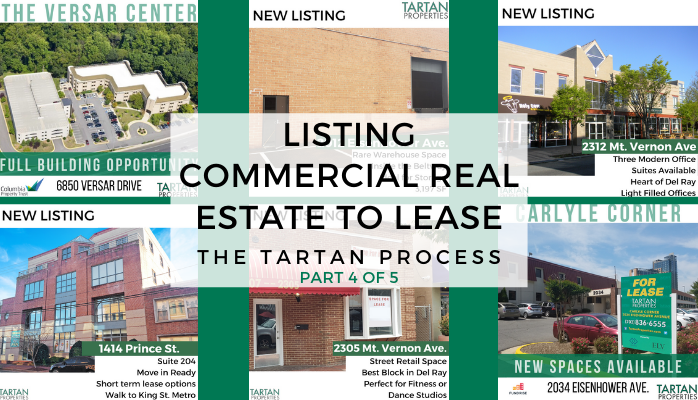 Listing Commercial Real Estate to Lease
Listing commercial real estate to lease or sell is a process, and the thoroughness of your approach will greatly dictate how successful you are.  By following these basic steps in TARTAN's listing process, you are more likely to find a qualified tenant at a market rate in a realistic timeframe whether your property is office, retail, or industrial.
Preparation
Once you decide to list your property, the temptation to put it on the market immediately may be strong.  But before we do that, we need to undertake the pre-marketing research to understand exactly what we are offering and the preparation to show the property in the most positive light.
Value the Property.  TARTAN will help you accurately determine the value of the lease opportunity by analyzing market-based data and making assumptions based on our years of experience in the Northern Virginia market.  A property is ultimately worth what someone will pay for it currently, not necessarily what you have leased it for previously.  Be realistic when setting a listing price.  Ultimately, overshooting the market with a high rental rate will only increase the time it takes to lease.

Survey the Competition.  What other similar properties might your prospects be considering, and how many such properties are now available?  Knowing the competition in the market and the velocity with which properties are leasing should guide you in pricing, developing an effective marketing plan, and setting our own expectations about the marketing time to get it leased.

Marketing.  We consider ourselves a marketing company first! We will develop detailed and compelling marketing materials not only highlighting the property's features and strengths but answering as many specific questions as a prospect might have.  One innovation that has occurred during the Covid pandemic is that creating a professional video or 3D tour of the property is a must.  Consumers largely agree that this is the best way to get your property in front of a much larger audience quicker.  Next we will  disseminate the marketing materials electronically to both active commercial brokers and potential user groups who would fit well in your space.  TARTAN's strong online social media presence will also provide maximum exposure for your listings.

Prepare the Property.  In a market like we are in now where there is a shortage of tenants looking to actively start or grow their business in a physical office space, greater attention must be paid to the condition of a property.  Don't let deferred maintenance be a reason someone passes on your building.  Competitive landlords are spending money now on their buildings to attract tenants.  Consider upgrading common areas or landscaping at your building  Fix the small issues and consider modest enhancements to attract tenants.
Engaging the Right Prospects
Tours and Broker Events.  Once we have a good understanding of your property, we can gather qualified tenant prospects as well as the specific commercial brokers who can bring them to us.
Touring prospects through a property is more than just showing up to open the door.  We use an engaging method of guiding a prospect through the property, telling a story so they get a comprehensive sense of the value and advantages of your property over others.
Qualifying Tenants.  We quickly assess if a prospect is truly a good prospect for the property.  Does the zoning work for their intended use?  Does the size and layout truly support the business they want to run there?  Can they afford the space?  Are they currently established in running a business with good cash flow, or will they provide a personal guarantee for the rent?  We look for answers to these questions before letting you be drawn into negotiations prematurely, which would simply waste your time and resources.
Proposals, Leases & Negotiation
Letters of Intent (LOI's).  When a prospect declares an interest in your property, they will request a formal proposal which will outline the basic economic and business terms that will become the framework of the lease agreement. Including details in the proposal can limit confusion and misunderstandings when we draft and negotiate the lease agreement.
Prepare a lease.  There are many complexities to commercial lease agreements.  We will encourage you to have a skilled real estate attorney provide a lease that protects your particular interests in the transaction and limits your liability and risk.
Take the larger view.  Other than the base rent, there are many other elements of the deal that will materially impact its overall worth.  These include options to renew, rent concessions, options to sublease, tenant improvements, rent concessions, and timing of payments, among others.  While it is easy to focus tightly on the rental rate, we will help you keep the larger picture in mind.
Once a tenant signs a lease they are now your customer for as long as you can meet their space needs and keep them happy.  Shifting the mentality from tenant to customer can lead to a much longer relationship and higher occupancy in your building.  Working with the experienced team at TARTAN and following this process, you will be on your way to a successful relationship with your new customer.
For More:
Selling Commercial Real Estate
Leasing Commercial Real Estate
Contact Us if You're Interested in Listing Your Space
«
Previous
Next
»